Ridma the top athlete from the tear drop Isalnd of Sri Lanka has arrived here in Milton Keynes to train with Arabian Gymnasts and compete in the International Roses competition here in Milton Keynes on Sunday May 3rd.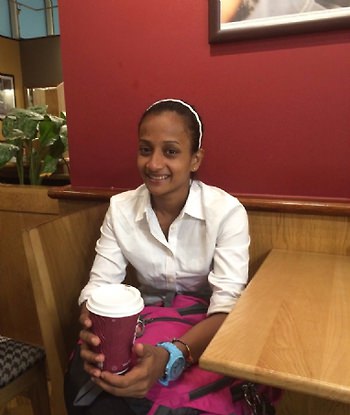 The brave gymnast who travelled alone on two flights as the British High Commission has not sanctioned her female coach to travel with her. Nevertheless she is good hands being cared for by one of the best Arabian families with top gymnast Kyla Howton and her younger sister Alysha. A huge thank you to the Howton's generousity and kindness.
Donna drove late at night to be the first face she would recognise on her arrival in London. Ridma was visited in Colombo by Alan & Donna in January who had been invited to meet the National Squad.
The coaches said they would do what they could to assist gymnastics in Sri Lanka and this is the first step in what the club hopes will be a long fruitful exchange. The gymnast has been funded by the local business The Engineering Quest who are the charities official sponsor.
Donna drove her direct to her host family in the early hours, ending an epic journey for the youngster
Ridma will do her first training session on Friday evening with head coach Alan and will meet all the gymnasts and coaches at the club. Saturday she will also gain some training with Alan who has stepped in to make sure she is ready for the event on Sunday.
Time is very short for this young girl so she has little time to chill out she must work out and prepare for the day. Arabian girls did the same in Chicago in February, just two days and bang…they did well!

Alan Armitage
Head Coach